Approved 02/12 - HCFA 1500 Form
(CMS-1500 Form)
HCFA 1500 Form - Guaranteed Format – Lowest Delivered Price –Ships Today
Order Cartons of 2500
For volume users
Multiple carton discounts
1-part white paper
UPS or USPS shipping
$44.95 or less per carton
BUY NOW >
Order Packages of 100
For lower volume users
Multiple carton discounts
1-part white paper
UPS or USPS shipping
$11.95 or less per pack
BUY NOW >
Order 2-Part Duplicate Copies
For carbonless copies
Multiple package discounts
2 parts: white/yellow paper
UPS or USPS shipping
$45.95 or less per pack
BUY NOW >
More Information About the HCFA 1500 Form Ordering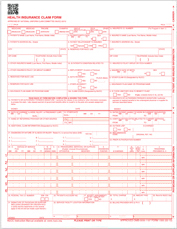 We offer the approved 12/02 HCFA 1500 or CMS-1500 form and guarantee that our forms are government approved. Choose cartons of 2500 for volume users. Choose packages of 100 for lower volume users with a minimum package order of just one. Or take advantage of our multiple package discounts if ordering more than a couple.
Looking for CMS-1500 forms preprinted with your address and NPI number? Click here for your imprinting choices.
We also offer HCFA 1500 from envelopes for you to simplify mailing claim forms to carriers.
As you know, there's no such thing as "free" shipping. Check our shipping prices and compare!